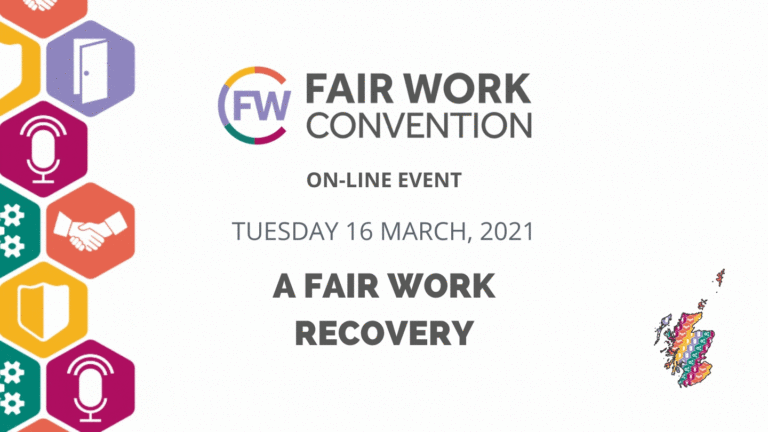 A Fair Work Recovery
The Fair Work Convention are to host an On-line event – A Fair Work Recovery on Tuesday 16 March.
The COVID-19 pandemic is having a profound impact on our economy and our wellbeing. Continuing to build fair work must be a priority to create the type of Scotland we want and need.
Properly embedding fair work principles will help Scotland respond to the challenges caused by the current pandemic as well as other issues around aging, climate change, automation, remote-working, EU Exit and changes in patterns of global trade.
About this Event
This event will:
support debate and understanding of fair work;
explore the changing nature of work;
consider how we better embed fair work in the recovery;
and reflect on international experience and approaches that could help us embed improved fair work outcomes in Scotland.
Agenda
The Fair Work Convention Co Chairs, Professor Patricia Findlay and Grahame Smith will welcome the following guest speakers to this event:
Gavin Kelly, Chair, Resolution Foundation
Veronica Nilsson, Head of the Global Deal
The event will also include a Panel Q&A session with:
Tracy Black, Director of CBI Scotland
Peter Cheese, Chief Executive, CIPD
Roz Foyer, General Secretary, STUC
Book your place at our event today