Chapter One: Introduction
1.1 Background
This report examines experiences of fair work in the hospitality sector in Scotland. The hospitality industry has been one of the sectors most affected by lockdowns and government restrictions due to COVID-19, as well as by Brexit. ONS data shows large variations in monthly turnover in revenue across the hospitality industry throughout the pandemic (ONS, 2021) and data from HMRC shows that hospitality was one of the sectors with the highest number of workers on furlough, both in Scotland and across the UK. Moreover, hospitality employers now face significant labour shortages. Hospitality has one of the largest numbers of job vacancies in the UK and the largest increase in vacancies since the start of the pandemic compared to any other sector (ONS, 2022). There have been various attempts to address these labour shortages in the sector, for instance last summer when the Scottish Government (2021) launched an advertising campaign to encourage people to choose a career in the tourism and hospitality industry.
A Hospitality Inquiry has been established by the Fair Work Convention, an independent body that advises the Scottish Government on advancing fair work for all in Scotland. Broadly, the inquiry will assess the extent to which work in the industry can be described as fair work. Consideration will be given to each of the dimensions of fair work, as defined by the Fair Work Convention (see Figure 1 below): effective voice, opportunity, security, fulfilment, and respect. An Inquiry Group, comprising representatives from the Fair Work Convention, employers, workers, national bodies engaged in the industry, and trade unions, will: assess relevant evidence, consult stakeholders, identify key issues and actions, consider feasible interventions, and develop recommendations for Ministers and the industry. A review of the available literature covering topics of importance under each of the five dimensions (Fair Work Convention, 2022) provided an initial base of evidence for consideration by the Inquiry Group and guided the Terms of Reference for the Inquiry. The Fair Work Convention has also commissioned the National Institute of Economic and Social Research (NIESR) to undertake this study, to add to this evidence base and extend the Inquiry Group's understanding of the varied lived experiences among workers in the hospitality industry.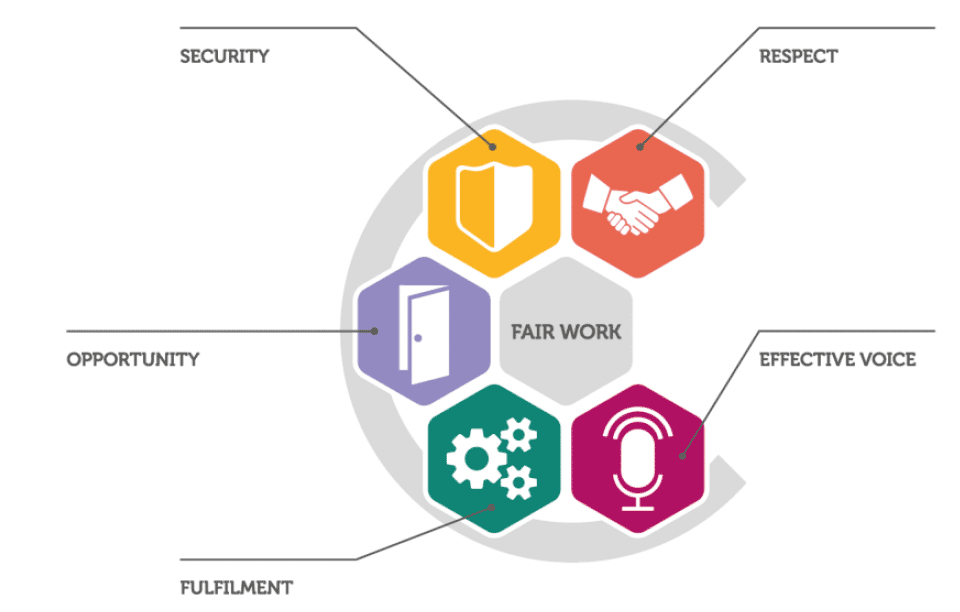 This study contributes to the Inquiry Group's understanding of lived experiences among workers in the hospitality industry. It involved semi-structured interviews with 30 hospitality workers and the analysis of video diaries completed by 14 hospitality workers. The report focuses on the perspectives and lived experiences of hospitality workers. In particular, it explores the impacts of precarious work, low pay and poor working conditions on the physical, mental and social well-being of those working in the hospitality industry. It also looks at how these experiences have been adversely affected by recent social and political events, particularly COVID-19, Brexit, industry-wide staff shortages and the cost-of-living crisis. The research presents a diversity of voices and experiences, including those of women, workers with recent histories of migration to Scotland and workers in rural and island locations in Scotland; many of whom face a unique set of challenges in the hospitality industry. The report additionally explores positive experiences of work among hospitality workers, relating particularly to their everyday relationships with customers and with co-workers. Finally, the report looks at workers' views and experiences on progression and training.
1.2 Methodology
We carried out the fieldwork between May and July 2022. It involved semi-structured interviews with 30 hospitality workers and video diaries with 14 hospitality workers, four of whom were also interviewed. Therefore, there are a total of 40 unique participants in our sample.
The interviews were carried out by telephone or video and lasted around 45 minutes each. The video diaries varied in length and depth: ten of the diaries involved six days of entries, which was the target initially set for the length of the diaries. Four diaries involved less than five entries due to participants not completing the process. Participants were asked to upload a short video each day, talking about the best and worst aspects of their day at work, and various other key themes relating to their day. They were completed over a two-week period using an online video diary software called Vurvey. All participants were paid £40 for their participation. The interview topic guides and video diary design can be found in Appendix A and Appendix B.
All interviews were conducted in English with the exception of one interview, which was conducted in Spanish by one of the authors of this report who is fluent in Spanish. The interview was translated and transcribed by this researcher. Four of the video diary participants were selected for interview after the completion of their diary: this was because they had had experiences that we believed would be best explored in more depth in an interview.
We used a variety of different methods to recruit hospitality workers in order to achieve a diverse sample. First, we used a professional recruitment company (MRFGR). This was the primary recruitment method for the interview participants, 22 of whom were recruited using this method. Secondly, we contacted 2400 employers in the hospitality sector in Scotland via a database of employers called Market Location. We asked employers to circulate information about the research to their employees. Similarly, we asked two organisations working with migrants in Scotland to forward the information to their members. Finally, we recruited a small number of hospitality workers using a 'snowball technique': this involved asking workers that we interviewed to circulate details of our research project to their colleagues and friends. Interested participants were asked to contact us directly and to complete a brief 'screening' survey to collect demographic information. For the video diaries and remaining interviews, we selected participants who fulfilled our target criteria for sampling. These targets included a particular focus on migrant workers, workers in rural areas, and workers on zero-hours contracts, as determined by evidence gaps identified by the Fair Work Convention for their Hospitality Inquiry (see Table 1 below for the full sample composition).
All the names of hospitality workers used in this report are pseudonyms in order to protect the privacy of research participants. In some cases, we have also changed the job titles, ages, and other characteristics of employees, while ensuring that we retain the overall integrity of the data by choosing descriptions that reflect the overall social structures identified in the research.
Throughout the report, we include a number of case studies, referred to as 'worker stories': these are in-depth explorations of the experiences of a single hospitality worker. These workers were chosen and interviewed in the same manner as the other research participants, with the exception of one case study, who completed a video diary rather than an interview. Case studies were chosen not necessarily for their representativeness of all workers in our sample but, rather, for their capacity to shed light in a detailed and nuanced manner on certain experiences among workers in the sector.
Table 1 provides an overview of the sample in terms of different demographic characteristics.
Table 1: Number and proportion of research participants, by different groups
Gender
Men
20
(50%)
Women
20
(50%)
Age
18-24
7
(18%)
25-34
13
(33%)
35-49
12
(30%)
50+
8
(20%)
Job types
Chef (head chef, sous chef or commis chef)
8
(20%)
Coffee shops/cafes (baristas or waiting staff)
7
(18%)
Bar tenders (pubs or bars)
8
(20%)
Hotel managers
3
(8%)
Hotels (housekeeping or reception staff)
3
(8%)
Restaurant (waiting staff)
5
(13%)
Restaurant manager
1
(3%)
Events catering (waiting staff)
3
(8%)
Security guard
1
(3%)
Take-away front of house
1
(3%)
Contract types
Zero-hour contracts (directly with employer)1
12
(30%)
Agency workers (app-based only)2
3
(8%)
Other agency workers
2
(5%)
Full-time contracts
11
(28%)
Part-time contracts
11
(28%)
Self-employed/freelance
1
(3%)
Hospitality workers with jobs in other industries
4
(10%)
Full-time
3
(8%)
Part-time
1
(3%)
Students
9
(23%)
Undergraduate students
6
(15%)
Diplomas or vocational courses relevant to hospitality
3
(8%)
People working in rural location, currently or in last 5 years
11
(28%)
Hotels
6
(15%)
Coffee shops, bars or pubs
3
(8%)
Restaurants
2
(5%)
People with managerial responsibilities
10
(25%)
Housekeeping supervisor
1
(3%)
Hotel manager
3
(8%)
Bar manager
1
(3%)
Coffee shop supervisors/managers
3
(8%)
Restaurant manager
1
(3%)
Head chef
1
(3%)
Migrants to Scotland within last 10-15 years
15
(38%)
Hungary
3
(8%)
Romania
2
(5%)
Nepal
1
(3%)
Poland
3
(8%)
Australia
1
(3%)
Hong Kong
1
(3%)
Estonia
1
(3%)
Finland
1
(3%)
Republic of Ireland
1
(3%)
Spain
1
(3%)
1. We note that there is currently no legal definition of a zero-hours contract. We have adopted the following definition provided by the CIPD: "an agreement between two parties that one may be asked to perform work for the other but there is no set minimum number of hours. The contract will provide what pay the individual will get if he or she does work and will deal with the circumstances in which work may be offered (and, possibly, turned down). " For full publication, see: CIPD. 2021. Zero-hours contracts: understanding the law. London: Chartered Institute of Personnel and Development.
2. These workers used apps to apply and receive shifts in hospitality work. The app 'gig' is one example of the type of app used by these workers.
For context, Table 2 provides an overview of some characteristics of the hospitality workforce in Scotland as a whole based on publicly available data.
Table 2: Scottish Hospitality Industry Characteristics
Gender
Men
73,700
46.3%
Women
85,400
53.7%
Age
16-24
52,500
33.0%
25-34
38,100
23.9%
35- 49
36,100
22.7%
50 and over
32,500
20.4%
Other Equalities Characteristics
Those who are from minority ethnic groups (as % of all employed in sector)
14,300
9.0%
Those who are Equality Act Disabled (as % of all employed in sector)
22,000
14.3%
Occupational Skill Level
Level 1 (Equates to a competence associated with a general education and may require short periods of work-related training)
78,800
49.6%
Level 2 (Requires a good general level of education but with a longer period of work experience than required for Level 1 occupations)
29,600
18.6%
Level 3 (Associated with vocational training or a qualification below degree-level and/or a significant period of work experience)
45,400
28.6%
Level 4 (Typically requires a degree qualification or equivalent period of work experience)
5,300
3.3%
Employment Characteristics
Those who are Self-employed (as % of all employed in sector)
14,300
9.0%
Those who are Part-time (as % of all employed in sector)
76,200
47.9%
Employment by Nationality Group
UK
128,900
81.0%
EU
23,400
14.7%
Non-EU
6,800
4.3%
Urban Rural Classification (% of total Scottish employment)
1 Large Urban Areas
84,300
43.7%
2 Other Urban Areas
53,120
27.5%
3 Accessible Small Towns
12,020
6.2%
4 Remote Small Towns
8,130
4.2%
5 Accessible Rural
17,990
9.3%
6 Remote Rural
17,380
9.0%
Sources: Annual Population Survey, Jan-Dec 2020. Businesses in Scotland, 2021. Employment - Business Register and Employment Survey 2020; Businesses - Inter-Departmental Business Register 2021.
Strengths and limitations of the data
The evidence in this report is based on qualitative research that is not – and does not set out to be – representative of the wider population. Instead, the research has focused on generating in-depth insights on the lived experiences of 40 hospitality workers, through collecting data using semi-structured interviews and video diaries.
In creating this sample of hospitality workers, we selected workers with a range of different job types, levels of responsibility, and pay, working in a range of different subsectors within hospitality across Scotland. This sampling strategy allowed us to explore a breadth of experiences within these sectors and to look for both commonalities and differences between different types of workers. Moreover, by conducting semi-structured qualitative interviews, we were able to generate detailed and textured data on the experiences and perspectives of our interviewees. Semi-structured interviews also ensure that data collection is led by the participants' priorities and views, rather than by any prior assumptions of the interviewer. This has allowed us to generate recommendations that we believe will benefit many hospitality workers in similar situations, including for the UK as a whole.
Our research is not, however, intended to be representative of all hospitality workers. We note, for example, that we oversampled migrant and rural workers, as this was an evidence gap identified by the Fair Work Convention. However, we only interviewed one person of colour. Similarly, experiences of disability, and experiences around gender and sexual identity, were not explored in any depth in the research. We anticipate that hospitality workers' experiences will be significantly affected by these intersecting identities. Unfortunately, however, an in-depth exploration of these issues was beyond the scope of this research project. We also note that there is a vast variety of job roles and subsectors within the hospitality industry, not all of which were captured within our sample. For this reason, we would encourage that further research explores the applicability of our findings to workers in other subsectors in hospitality, such as those excluded from this research, including food delivery drivers.
Finally, it is important to note that the research is designed to understand the experiences of a sample of hospitality workers at one point in time – in 2022. This period saw high rises in the cost of living, with inflation at the time of fieldwork around 9%. The sector was also affected by the pandemic, new trading relations with the EU, and labour shortages. While the interviews sometimes covered people's experiences across their working lives, especially as past experiences are often important to understand people's current perspectives, the study does not intend to draw any significant conclusions about past or future cohorts of hospitality workers.
1.3 The report
The report consists of this Introduction plus eight additional chapters. Chapter Two looks at experiences of hours and pay. Chapters Three, Four and Five look respectively at experiences with customers, experiences with co-workers and managers, and experiences around communication and voice in the workplace. Chapter Six looks at experiences of training and progression, followed by Chapter Seven which looks at experiences relating to the COVID-19 pandemic, Brexit, ongoing staff shortages, and the cost-of-living crisis. Chapter Eight explores the perspectives and stories of people working in rural and island locations in Scotland and how these contexts have shaped their experiences of work in the hospitality industry. Finally, Chapter Nine, the conclusion to the report, summarises the findings and explores some of the implications of the research.