In our next New Members blog is from Chief Executive of Aberdeenshire Council, Jim Savege who reflects on the impact of  COVID-19  and the significance of fair work principles.
I am writing this blog whilst at the same time busily packing to head away to see friends and family, many of whom I have not seen for over two years. Covid19 has indeed been a rather significant interruption to the normality of day to day life, and has demanded much of all of us in order to navigate its impact and effect in the best way we can.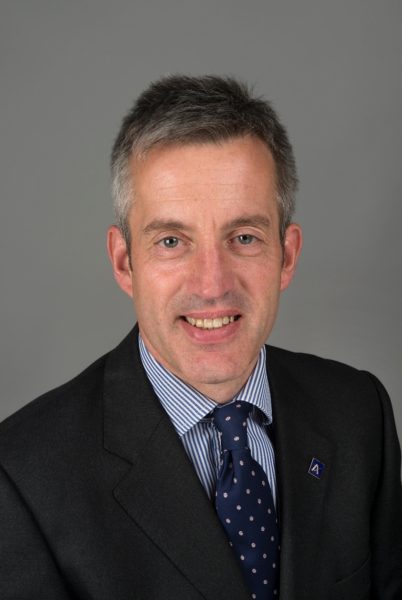 Asides the long hours staring at a screen in endless zoom and teams meetings, what has remained with me as my enduring memory of the pandemic is the pride and utter respect for the effort and commitment that so many people have shown towards each other. Navigating Covid19 has indeed been a team effort, a time where we have truly seen the best of people. Selflessly helping friends, family and colleagues, doing whatever has been required, yet knowing that this is the right thing to do – for the common good – this has been the phenomenal path that so many have chosen to take.
And now there is much chat about recovery – moving forward to living effectively alongside Covid19, establishing a new tempo and way of working and living. Lots of discussion about keeping hold of the positive changes to work and life that we used during covid19. Top of the list here for me would be the tireless pursuit of helping people be their best, to achieve their ambitions and their potential, be that in a workplace or a community setting. I say this as so often such achievement and fulfilment will be for the greater good – the positivity, pride, and success will rub off on all of us – make us smile, feel valued, improving our own lives and put a spring in our step.
Such individual achievement needs the right support and help – it is always a team effort, as I reflected earlier. And that so often means having the right culture and conventions in place in an organisation or a community – fairness, respect, rights, opportunity. I reflect on my own organisation where our values come from our amazing front-line staff – 'bring your best self to work' being one of them. A culture where doing the right thing is valued, transparent and fair pay the norm, and a strong partnership with staff and their representatives – fair work principles play a key role in everything that we do. 'Why would I not adopt these principles?' 'Surely this is the sort of organisation I want to work in'?
Yet this does not happen without intent and effort. I have led the implementation of equal pay reviews a number of times in my career – absolutely the right thing to do, yet it took significant time, hard work and commitment by all. Having run my own business in the past, I think about the large number of SME's across Scotland, cognoscente of the challenges they often have to navigate to be successful and sustainable, and where that bit of extra effort to do the right thing can feel a real stretch. I think about communities I have worked with that are resilient, and strong. They are forging their own path forward as a community – clear on where they are heading, using the strengths of all – the same fair work principles evident at a community and societal level. Such community resilience has taken commitment, time and effort from many over many years – often driven by an unspoken camaraderie – knowing it is the right path.
If we are to keep hold of the positives coming out of covid19, and be in a stronger and more resilient place to be able to address the causal and consequential societal inequalities that have been amplified, we have to continues with that same commitment and determination that we used to navigate the pandemic itself. We have to create the right organisational and societal conditions that will enable each and everyone to thrive and flourish, to realise their potential, and to be able to contribute for the betterment of their peers, friends and family.
There is no more important a time, I would suggest, to ensure that the principles of fair work are the bedrock of every organisation. I simply reflect on what we have navigated and achieved over the past two years, and turn to look ahead with optimism at what we can achieve together in the future. We have to continue to invest in what binds us together, what helps us achieve more together, knowing in our hearts that it is both possible, and the right thing to do.
Jim Savege, Fair Work Convention