15 July 2020
The Covid19 pandemic and subsequent lockdown have transformed much of the world of work. Many workers across Scotland have been furloughed, laid off or now work wholly or in part from home. Many others have continued to work in a range of critical occupations ensuring the supply of essential goods and services.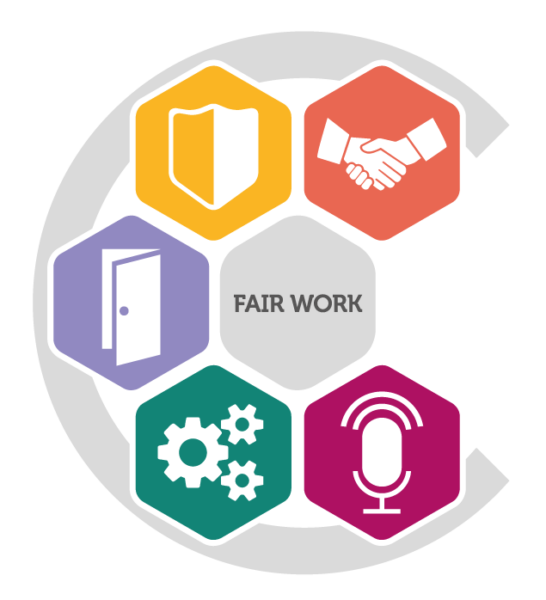 There are many examples of employers, unions and workers working together to place fair work, in all its dimensions, at the heart of the response to the current crisis, restructuring activities, policies and practices in ways that support the safety and wellbeing of staff and ensure business continuity. Unfortunately, there are examples where this has not been the response.
The Fair Work Convention is firmly of the view that fair work is more important than ever in shaping our collective response to the ongoing public health challenges and the prospect of economic recession, and that this represents a critical time for our commitment to being a fair work nation. We believe that this view is shared by the Scottish Government and by many employers, unions, workers and has broad public support.
We welcome the steps that Scottish Government has taken to uphold fair work in the crisis, the supportive stance of the Cabinet Secretary for Economy, Fair Work and Culture, and the Scottish Government and STUC statement on fair work issued in March 2020.  We welcome also the identification by the Advisory Group on Economic Recovery of fair work as one of the key principles that must guide the recovery. As we begin to emerge slowly from lockdown restrictions, the Convention urges employers and unions to use the Fair Work Framework to guide their approaches and decision-making.
Effective voice will be crucial to identifying, assessing and addressing the challenges of restart and recovery facing both employers and workers. Communication and real dialogue at workplace level, fully involving workers and unions, can be an enormous asset in situations that are new or unpredictable and that require flexible responses.
Uncertain times create additional anxieties for employers and for workers, making efforts to support security of employment, work, income and hours ever more valuable.  While we recognise that some sectors will be particularly hit by disruption to patterns of demand that will impact on prospects for employment and income security, employer commitment to secure and stable work as far as is possible can best deliver the flexibility, responsiveness and performance required for business and economic recovery.
The Covid19 crisis has highlighted the distance between our reliance on the efforts and commitment of critical workers – in health and social care, retail, transport and logistics, for example – and how many of these workers are (under) valued and (poorly) rewarded in market terms.  We must re-double our efforts to ensure fair work for these workers on whom we rely so heavily.
Workers are not all experiencing current circumstances in the same way, and combining homeworking, caring and schooling is likely to impact negatively on equality of opportunity.  Similarly, workers with disabilities may face distinctive challenges in relation both to current and future work arrangements.  We cannot and should not allow the current crisis to roll back advances in equality of opportunity or stall future advances in equality.
For those fortunate enough to be able to continue working during the Covid19 crisis, work may have provided many with a source of 'normality', purpose and fulfilment in the most unusual of circumstances.  Others more on the 'front line' will have continued to provide valuable and critical services, though often in more intense, demanding and difficult contexts.  As we move into restart and recovery, fulfilling work that engages creativity and commitment is likely to be the key to solving new and existing problems and delivering appropriate solutions that work for all.
Our Framework stresses respect – for personal well-being, work-life balance and contribution – as a key dimension of fair work. Respect for personal well-being is fundamentally important during restart and recovery.  While at a political level there is and will be an inevitable tension between public health measures and concerns over economic performance, and while employers will also face tensions between the impact of restrictions and business performance, employers' statutory duties in relation to the health and safety of their workers do not waver – work must be safe, and ensuring physical and mental health and well-being must be an over-riding consideration of all employers.
Necessity is often viewed as the mother of invention, and this unprecedented situation will require much creativity and innovation.  In all of its dimensions, fair work provides important guiding principles for employers, unions and workers as they face new and longstanding challenges together, principles that can influence how we respond to the many challenges to come.
We call on the Scottish Government to support fully the recommendations of the Advisory Group on Economic Recovery that relate to fair work; to make implementation of the recommendations of the Convention's Fair Work in Social Care Report a priority; and to ensure within  its powers that workers' rights to a safe and healthy workplace and government guidelines on safe working in specific industries are enforced effectively. We also call on employers and unions to establish and implement Fair Work Agreements on the actions required on the each of the five fair work dimensions at a sector and workplace level to ensure a recovery powered by fair work.
The Fair Work Convention will continue to work closely with Scottish Government, employers, unions, public bodies, agencies and civil society organisations to help embed fair work in our recovery as a driver of positive change and shared benefit, and to help ensure that our commitment to fair work shapes our workplaces and our shared future.


Professor Patricia Findlay                                                    Grahame Smith   
Co-Chairs, Scotland's Fair Work Convention