Scotland's Fair Work Convention has published findings from their Fair Work in Scotland: Workers' Experiences through COVID-19 Survey.  The survey has revealed a mixed picture on fairness at work, access to sick-pay and support for carers during the pandemic.
In July 2020, a joint statement by the Scottish Government, COSLA, the Institute of Directors, the Scottish Council for Development and Industry, the Scottish Council for Voluntary Organisations and Scottish Trades Union Congress highlighted the need for fair work to be prioritised throughout the pandemic. One year on from the beginning of lockdown, YouGov on behalf of the Fair Work Convention surveyed 1,050 adults to examine the fair work experiences of workers in Scotland.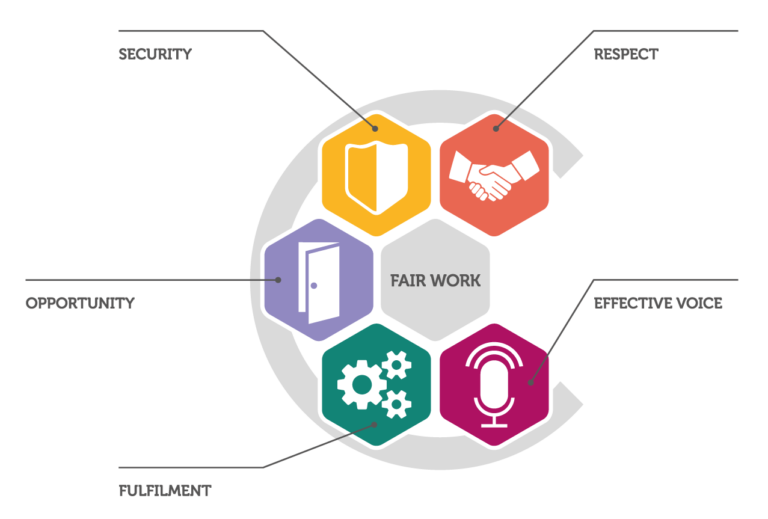 The survey findings reveal a mixed picture. Results show 71% of workers reported they felt they had been treated fairly by their employer during the COVID-19 pandemic, while 16% felt unfairly treated.  The proportion of those who felt they had been treated fairly is particularly high amongst those with children (78% in all households with children) – particularly those with young children
The survey also exposed differing experiences and access to fair work, with carers for disabled, ill or elderly adults, and skilled and unskilled manual workers experiencing the worst outcomes in a range of circumstances.  Notably the survey found that:
A third (33%) of workers in Scotland would not receive full pay if they became sick or had to self-isolate due to Covid-19. Manual workers were twice as likely as professional and managerial workers to report receiving only statutory sick pay;
13% of Scottish workers surveyed revealed that they felt under pressure to breach public health advice when advised to self-isolate because of fear of losing their income, job or business;
Carers of disabled, ill or elderly adults were least likely to report feeling fairly treated by their employer, and most likely to face losing income or other benefits when balancing work and care;
Women were more likely to report being unable to balance work and caring commitments;
Professional and managerial workers (50%) were more likely to be able to access homeworking compared to manual workers (25%). Manual workers were also less likely to benefit from adjustments to shifts or rotas (17% compared to 22% of professional and managerial workers).
The majority of workers surveyed felt that they had been kept informed during the pandemic, with most communications coming through line mangers and senior managers. However, nearly half (49%) of workers revealed that they had never felt involved in decision-making in their workplace, with a further 15% feeling less involved in decision-making than prior to the pandemic.  Only 17% of workers felt they had been effectively involved in decision-making since the pandemic started.
These findings reflect the picture presented in the Fair Work Convention's recent Fair Work in Scotland report, with the pandemic exacerbating many existing inequalities. The previous report found that there is significant variation in the experience of fair work by industrial sector and highlighted that disabled workers, ethnic minorities, women and young workers often had poorer work outcomes, and were often more heavily concentrated in precarious and low paid work.
Commenting on the survey findings, Professor Patricia Findlay, Co-Chair of the Fair Work Convention, said:
"The survey results reveal that many employers made significant efforts to inform and support their workforce during the pandemic. However, it also confirms the variation in experience that our Fair Work in Scotland report also revealed.  The extent of persistent inequality at the workplace by class and by protected characteristic is deeply concerning, and is likely to worsen as a result of the disproportionate impact of COVID-19 on those already experiencing the poorest fair work outcomes.
"It is also worrying how many workers (49%) reported that they had never felt involved in decision-making in their workplace and how few (17%) reported effective involvement in decision making during the pandemic.  Effective voice is not only a core fair work principle, – it is also crucial to shaping effective responses to the challenges posed by the pandemic. Improvement in effective voice is needed if fair work is to be at the heart of Scotland's recovery."
Grahame Smith, Co-Chair of the Fair Work Convention added:
"In issuing its Fair Work Statement the Scottish Government and the employer and union signatories recognised the importance of fair work in tackling the pandemic. However, with a third of workers expecting to see their pay cut if they are sick or self-isolating, and 13% reporting feeling under-pressure to break public health rules, falling short on fair work has a serious impact on combatting the COVID-19 crisis.
"The Convention is clear that far from being an added extra, fair work helps us deal with the challenges we face as a result of COVID-19. As we move into recovery we must learn the lessons of the pandemic and take action to improve our workplaces and workers' experiences of fair work if we are to shape the sort of Scotland we want and need."
Read a summary of Fair Work in Scotland: Workers' Experiences through COVID-19 Survey results
You can also see tables with charts of results from the 'Fair Work in Scotland: Workers' Experiences through COVID-19 Survey