Scotland has made some progress on its fair work ambition, but significant effort is required to meet its aim of becoming a leading Fair Work Nation by 2025. According to the latest research by Alma Economics conducted on behalf of Scotland's Fair Work Convention, Scotland must improve on thirteen out of fourteen indicators to become a leading Fair Work Nation by 2025.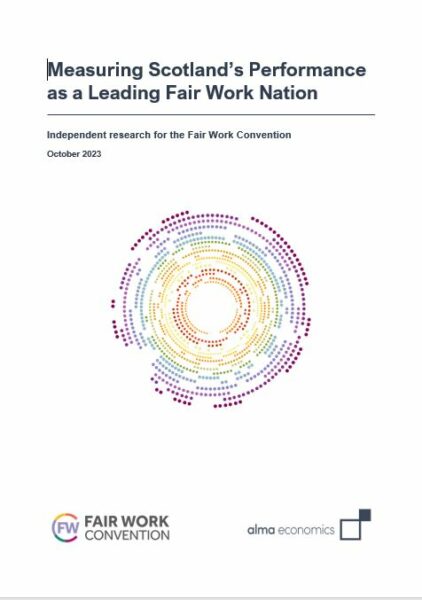 The Fair Work Convention today published its latest report, 'Measuring Scotland's Performance as a Leading Fair Work Nation'. The research compares Scotland's relative performance to Denmark, Belgium, Austria, Finland, Iceland, Ireland, the Netherlands and England within a new International Fair Work Framework.
This new International Fair Work Nation Framework highlights areas of relatively positive performance in the Scottish economy, with Scotland leading on one indicator, permanent employment and performing comparatively well on two others: youth unemployment and work related ill-health and disease. It also notes that Scotland is currently mid-table on seven indicators including the gender economic inactivity gap and the gender pay gap.
However, there are four indicators where Scotland currently performs poorly and where there are large gaps to the leading Fair Work Nation. These are skills utilisation, collective bargaining, involuntary non-permanent work and the disability employment gap.
The Fair Work Convention is clear that Scotland's performance must be leading across all indicators for Scotland to be considered a leading Fair Work Nation.  The Convention is therefore asking Government to set clear targets to become a leading Fair Work Nation on every indicator, and to learn from international good practice.
In addition to the new International Fair Work Nation Framework the research also updated indicators in the Scotland level Fair Work Measurement Framework, developed by the Convention in 2020. Again, performance was mixed.
Positively, the report revealed that Scotland is performing well in a number of areas. There was a significant decrease in the proportion of employees earning less than the Real Living Wage, the gender pay gap almost halved since 2016, involuntary self-employment fell to 2 per cent in 2022 and the ethnicity employment gap fell to 11.7 per cent in 2021, while the ethnicity pay gap declined.
However, there are also areas where measures have worsened in Scotland including an increase in the disability pay gap; a doubling of the prevalence of self-reported stress, depression or anxiety caused or made worse by work; and the percentage of employers who provided training to their employees has fallen, while the use of Zero Hours Contracts has increased. Access to flexible working has improved slightly since 2016 but three quarters of Scottish workers still have no access to flexible work.
Commenting on the Report, Mary Alexander and Professor Patricia Findlay, Co-Chairs of the Fair Work Convention, said:
"The Report shows that there is much to be done if Scotland is to meet its vision to be a Fair Work Nation by 2025.  While progress has been made in some areas, the extent of persistent inequality at the workplace level is deeply concerning. Becoming a Fair Work Nation is both challenging and aspirational and it will take sustained effort to change the experience of work for the better.
The Scottish Government has placed significant focus on this issue, but the scale and the reach of fair work actions have, to date, been limited. Greater attention now needs to be placed on mainstreaming a fair work approach across the public sector, on building capacity amongst employers, and on delivering on Fair Work commitments to create meaningful change.
The Fair Work Convention is grateful to Alma Economics for their findings. The work undertaken has created a foundation on which to build effective policy interventions."
Lawrence Newland, Director at Alma Economics, added:
"The International Framework provides policymakers with realistic goals for advancing as a Fair Work Nation and provides researchers with a toolkit for tracking this progress. Comparison countries provide a roadmap for what is achievable over the short-term and medium-term. Going further, in the long-term even greater ambition is needed to set goals such as reaching employment and pay gaps of zero."
The Fair Work Convention has made urgent recommendations to the Scottish Government to:
invest in Active Labour Market Policies at a level comparable to the leading Fair Work Nations, while also drawing lessons from other countries, particularly Denmark where the disability employment gap is 7.9 percentage points compared to 31.2 percentage points in Scotland, and Finland, Belgium and Ireland which do significantly better than Scotland on skills utilisation;
undertake an evaluation of the effectiveness of Fair Work First;
strengthen fair work conditionality and the effectiveness of fair work interventions on reducing insecurity, reducing the prevalence of Zero Hours Contracts, tackling the gender pay gap, supporting diversity and inclusion, increasing the use of flexible working arrangements and addressing in-work poverty;
undertake an evaluation of how current childcare policy supports women's participation in the labour market; and
effectively implement accepted Fair Work Convention recommendations and Fair Work Action Plan commitments on collective bargaining including in social care, construction and early learning and childcare.
Read the full 'Measuring Scotland's Performance as a Fair Work Nation' report and the Fair Work Convention's official response to the research: