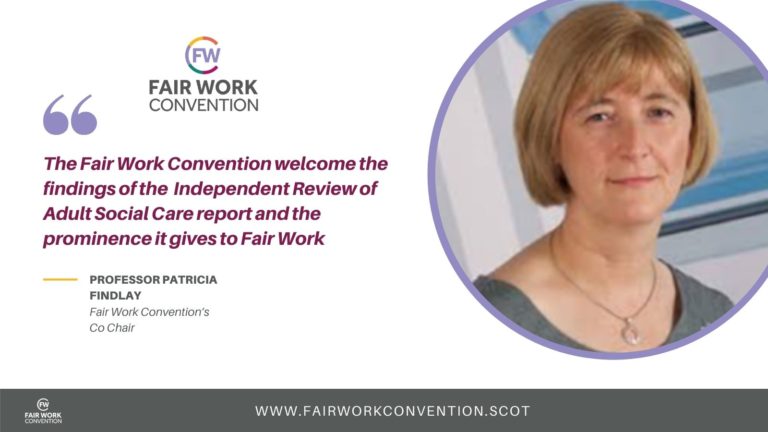 The Fair Work Convention Co Chairs Professor Patricia Findlay and Grahame Smith welcome today's publication of the Independent Review of Adult Social Care report which incorporates in full the recommendations from the Fair Work Convention's inquiry into social care published in 2019.
Commenting on today's report, Professor Patricia Findlay said:
"The COVID-19 pandemic has brought into sharp focus the need for the recommendations within this report to be actioned as a matter of urgency. The creaking system witnessed over the last year within adult social care did not happen because of the pandemic, but the pandemic placed a spotlight on the consequences of years of flawed commissioning  and undervaluing of the predominantly female social care workforce. No-one should now be in any doubt how much we rely on these essential workers.
The Fair Work Convention welcomes the findings of this report and the prominence it gives to fair work, including the move to national workforce planning. We urge the Scottish Government to support the creation of robust channels for worker voice in the sector, to listen to the voices of frontline workers  and to take on board these recommendations."
Grahame Smith added:
"The Fair Work Convention published its ground-breaking report on Social Care in Scotland in 2019, and is delighted that the Independent Review has endorsed in full the Conventions recommendations. The Scottish Government must act now to work with employers and unions in the sector to deliver the changes for which there is a clear consensus. Social care workers should be properly valued and fair work must be at the heart of health and social care reform.
Addressing the longstanding challenges that these reports identify and raising the bar on working conditions in our Social Care sector in Scotland must be a priority. "