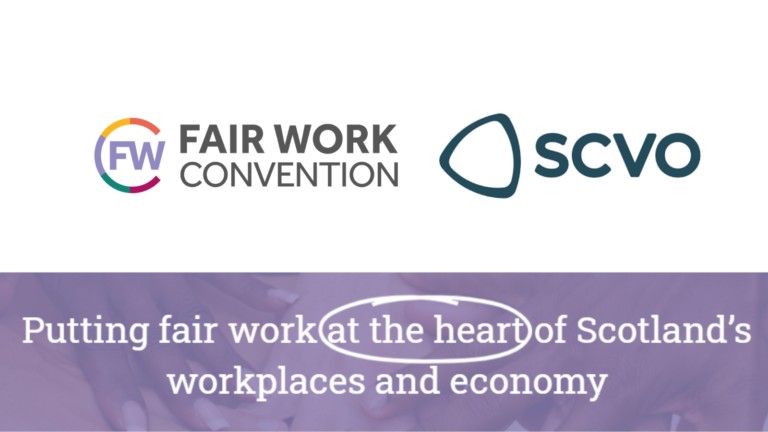 Scotland's Fair Work Convention and the Scottish Council for Voluntary Organisations (SCVO) have joined together to form a strategic partnership, working to ensure fair work drives success, wellbeing and prosperity for individuals and organisations within the voluntary sector across Scotland.
The SCVO is the national membership organisation for the voluntary sector. Its mission is to support, promote and develop a confident, sustainable voluntary sector in Scotland. Along with its community of over 2,600 members, SCVO believes that charities, social enterprises and voluntary groups make Scotland a better place.
The strategic partnership will allow the Fair Work Convention and SCVO to work together with the aim to support each other's work around fair work, with a particular focus on increasing job quality within the voluntary sector in Scotland and improving perceptions of the sector as a good place to work.
Professor Patricia Findlay, Co-Chair of the Fair Work Convention, said:
"We hope that this strategic partnership with SCVO will help deliver deeper awareness of the concept of fair work among SCVO's members and the wider voluntary sector. The voluntary sector is not only important in generating employment but in delivering often crucial services, and investing in the experience of workers in the sector can pay huge dividends in the quality of services provided and in retaining talent in the sector.
We look forward to collaborating further with SCVO and aim to support each other's work around fair work as defined in the Fair Work Framework."
Grahame Smith, Co-Chair of the Fair Work Convention added:
"The Fair Work Convention and SCVO share many core values. We agree that fair work is central to tackling inequality, improving job quality and wellbeing for all workers in Scotland, including those within the voluntary sector and in enhancing the important services that the sector provides
By working together we aim to ensure that everyone working in the sector experiences fair work by addressing some of the barriers, including those linked to funding and to employee voice and union recognition that inhibit this."
Anna Fowlie, Chief Executive of the Scottish Council for Voluntary Organisations said:
"As a member of the Fair Work Convention and Chief Executive of SCVO,  I know that many voluntary organisations are great employers, but I also know that for many achieving the fair work principles remains an aspiration, and there needs to be significant systemic change to enable them to meet that aspiration.
I hope that this partnership will help improve understanding of fair work within the sector and the funding system it operates in to deliver improved workplace practice, built around fair work, across Scotland."